I don't mess around when it comes to oatmeal. Here's a recipe for the latest rendition, featuring dried mulberries, turmeric and more.
Oatmeal makes a great base for a healthy breakfast. I pack it full of nutrient-dense additions to up the health quotient and make it even more delicious. Here we go: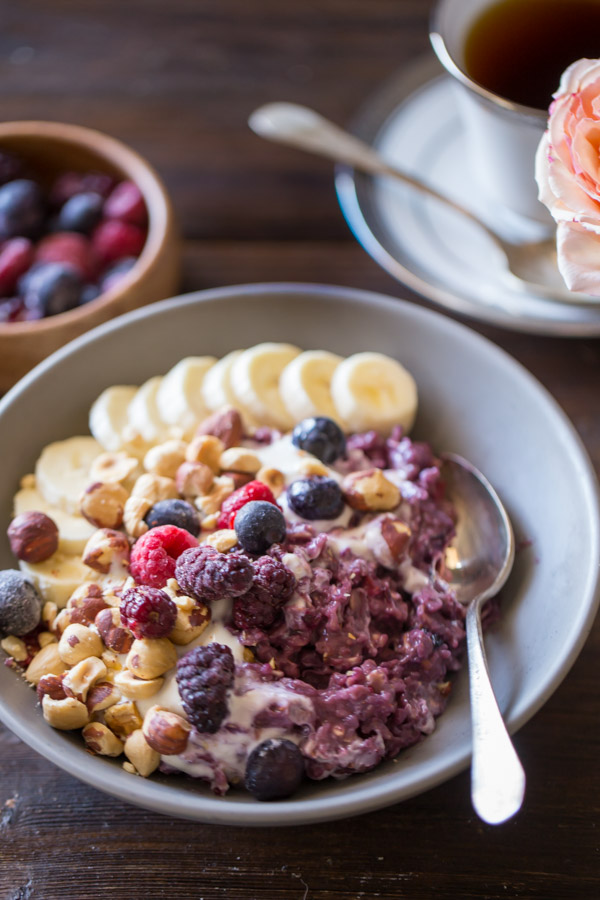 ROCKING OATMEAL RECIPE
Ingredients:
-Except for the oats, none of these ingredients in sacred. Feel free to cut 1 or 2. Or add something else, like chopped apple or black strap molasses…
Oats, 1/2 cup driy
Water, 1 cup (or as needed for cooking / consistency)
Fresh Berries, as many as you can!
Dried Berries or Raisins, 1/4 cup (for chewiness)
Banana, 1/2, sliced
Non-Dairy Milk, to get the right consistency (I use soymilk because it's beans + water)
Walnuts, 1/8-1/4 cup (more if you want more calories at breakfast)
Tahini or Almond Butter, 0-1 TBSP (more = creamier and richer)
Cocoa Powder, 1-2 TSP (non-dutched / non-processed)
Turmeric, 1/4 TSP (Dr. Greger's recommendation)
Cinnamon, 1/4 TSP
Ginger, 1/4 TSP (or to taste)
Cayenne, 1/2 pinch (if you're feeling extra spicy in the morning!)
Directions:
Cook oatmeal according to your preferences. Add a bunch of stuff. Simple. Serve with green tea or black coffee.
Remember that the more berries and spices you add, the more nutirent-dense the meal. Cocoa powder, in its non-dutched form, is full of antixodants and other beneficial compounds and definitely considered health-promoting.
I add the banana partway through cooking so it gets toasty. I add the spices partway through to make the kitchen smell amazing. If I'm in a big rush, I use quick-cooking oats and just pour boiling water over them, then add everything else.
This meal can also be pre-set the night before, so all you have to do in the morning is dump it in a pan and cook there or add boiling water and semi-cook it in your bowl.